This past June, Angélica, an STF Scholar in Guatemala, graduated from secondary school—which is an achievement fewer than 1% of indigenous girls in Guatemala reach*. (High five, Angélica!)
Now that she's completed her education, she has her sights set on someone else's graduation: Erica, her younger sibling. Erica recently enrolled in secondary school with STF Partner Starfish Impact where Angélica attended, following in the footsteps of her big sister.
In her own words, Angélica shares how she's mentoring and guiding Erica to graduation and beyond: "I am helping my younger sister by encouraging her to keep going no matter what. I always let her know that there will be many obstacles in achieving our goals, but I tell her to take those obstacles as experiences that can help her to be better each day of her life, and to know each day spent at school is one step closer toward her goals."
Not only does Angélica plan to create a chain of support for her younger sister (and brother!), but she also hopes to be a role model for other young women, too: "The advice I passed on to my siblings and my peers is to be confident with themselves and believe in their own potential."
And she knows that being the first has ripple effects far beyond her own family: "I know that I am encouraging friends and other girls to be the first in their families and communities too. It also means I can be a good role model, so others can learn from my mistakes and make even bigger changes in the world."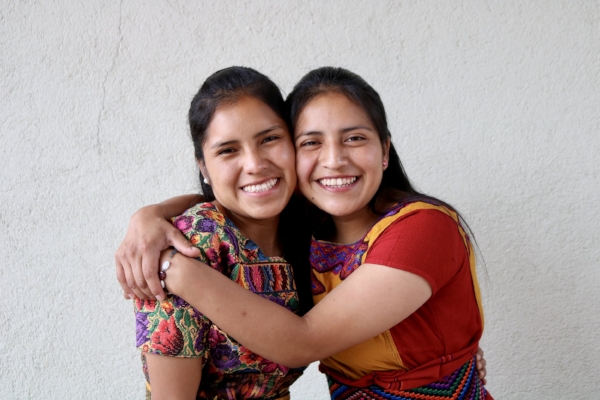 "For my sister, pursuing her education is a big opportunity to learn how to be determined, resilient, and to learn it from her peers, especially someone like me who was able to achieve my ambitious goal. Today, my family is proud of both of us.
Like all STF partners, Starfish One by One supported Angélica—and now Erica—with more than just basic tuition. They provided the opportunity for Angélica to learn English, guided her with economic and moral support through mentoring groups, and taught her about important characteristics like teamwork and perseverance. She credits the support of her school as one of the reasons she was able to reach graduation: "They were always cheering us on and supporting us."
What's next for Angélica? She's already been accepted to the Universidad del Valle de Guatemala, one of the top universities in Guatemala. She's currently working on scholarship applications, and plans to pursue Biochemistry and Microbiology this coming January! She hopes to eventually attend medical school in the United States and is excited about the new adventures that lie ahead.
And though she's graduated, Angélica knows that not everyone has the same opportunity. But she's working to change that: "Everyone needs to be aware that there are many other talented girls out there that do not have the opportunity to even learn how to read and write or use a book and a pencil. But everyone can advocate for a girl that deserves an education, so the number of uneducated girls can decrease dramatically. Everyone can believe in the potential of a girl."
Honor Angélica's graduation year by donating $20.18 to support future STF Scholars in Guatemala.
*Source: http://www3.weforum.org/docs/WEF_GenderGap_Report_2013.pdf